Are you planning to travel with a baby for the first time?
We went on a trip with a baby for the first time, to… Hawai'i! I love Hawai'i and I always have a great time. The culture, the food, the colors of the sky and ocean, and the atmosphere, I love everything about it. It felt appropriate to introduce our daughter to one of our favorite places as the first destination!
As first-time parents, there was a lot to learn and I was just thankful that my daughter was so resilient and easygoing. She really did us a favor. She turned three months while were traveling. The first three-month of her life was in Alaska in winter, so Hawai'i's heat must have been a shock for her. We aren't overly worried parents and she is a pretty even-tempered baby so we make a pretty good team. Nonetheless, I learned a lot, some were obvious and some were more subtle.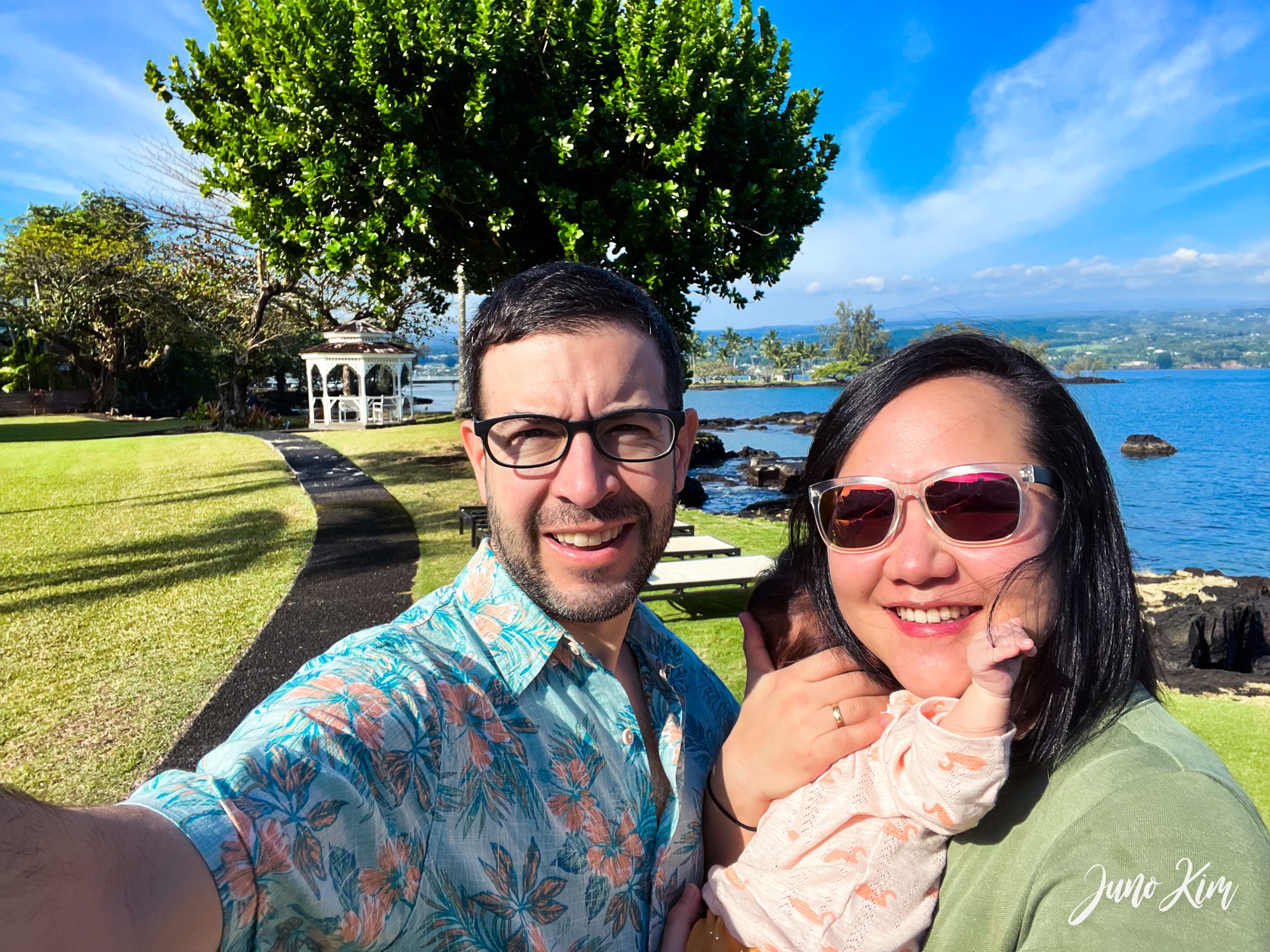 Travel with a baby? Everything takes longer
Probably this is fact #1 in how to travel with a baby. Everyone knows this and it's true. Planning extra time ahead is the key. Also, know that it will take longer than you planned. Traveling with a baby is vastly different than traveling solo with a backpack. There's a diaper check before we step out the door. The baby might be fussy about food or sleep at unexpected times. There's an accidental throw-up. And there are many more items to pack: stroller, car seat, diaper bag, breastmilk or formula, etc. The list goes on and on. I'm usually punctual and like to have extra time so I have to adjust my expectation while traveling with a baby.
Plan a break and shorter days
I realized my baby hadn't been in the car this long in her entire life of three months. She's never been out of the house for more than several hours at a time. So after a couple of days, we realized that we needed to plan a break and shorter days to have her out of the car seat. Even during a vacation, it's important to keep the day/night routine with a baby. So most days we took at least one break during the day and I stayed in with the baby in the evening for the night routine.
Bring extra everything
With a baby, anything can happen. Bring extra everything! As a planner by nature, I tend to overpack in general. And it works in my favor with a baby! I always have a pair of extra clothe and some diapers in the diaper bag but if you're planning to spend the day out from your lodging, there need to be many backups. On one of the mornings, we had to do three outfits and two diaper changes (I'll save you a detail…). Extra formula if you're formula feeding, more diapers than you think you need, plastic bags, and don't forget extra pairs of clothes for mommy.
Babies are adaptable
I'm in awe of my baby every day. In such a small body, there's so much resilience and strength. Babies are adaptable. They are generous and gracious. That's how they learn about themselves and the world around them. We worry, and of course we worry, but babies are stronger than they look and wiser than we realize. Be prepared if you're bringing a baby to a new environment (like us, from Alaska to Hawai'i) but also know that they will be fine. So relax and enjoy your time together.
But know the limits
As adaptable as they are, there will be limits. I realized that my three-month-old Alaskan baby was too young for a beach in Hawai'i. She was fine with most of the things we did and places we went but there were some limits. As first-time parents, we were learning too. If you feel like there's a limit, don't force it. Adapt it and make an alternative plan.
What to pack to travel with a baby
Packing to travel with a baby for the first time, I had to run through many scenarios in my head. I did my best to pack the right things but there's room for improvement for our next trip! But I found these items very useful.
Car seat and stroller gate check bag
As we were planning the first trip with the baby I was running the scenario in my head from the check-in desk to the plane. What do we do with our stroller and car seat (it's a combo), when do we check them, and where the baby would be? I realized it's best to keep the stroller and car seat until we go to the plane because we can hold stuff in the stroller and the baby can sit in the car seat until she has to be attached to me as a lap infant. But then, would the car seat be checked without any cover? And my baby has to sit in it afterward? It didn't feel right.
So after some research, I purchased a gate check bag for a stroller and car seat. We got the gate check tags from the gate agent and rolled the stroller to the plane door. From there, the baby went into my baby carrier, the car seat came out of the stroller, and each of them went into separate bags. Zip them up, and voila! Off they go. It feels so much better knowing that the car seat wouldn't be sitting in the plane without any cover.
Ceres Chill
This is a must for pumping mamas. There will be a separate blog post because there's so much to say. But a long story short, this is the best way to keep your breast milk cool while traveling. Forget an icepack and cooler (like I was planning before finding out about Ceres Chill). With Ceres Chill, you can pump and store with style and no hassle. I have to give a huge shoutout to my friend Sara who introduced me to Ceres Chill. Look out for the full review post about this amazing product. Use the code "RunawayJuno" to get 15% off of your own!
Portable infant lounger/ bassinet
The bassinet I have can be folded but it's only suitable for car travel. I was thinking of a way how to create a safe sleep space for my baby. Since we were planning to stay at a rental that didn't have an infant bed I needed to think of something. Then I found a portable infant lounger that folds into a small bag. There are many kinds out there but this particular model I bought was a lounger with a harder edge which was perfect! It fit in the suitcase, nice and light. I let my baby sleep in here during the night and also used it for her to rest during the day. A safe space for my strong and independent woman to be.
Baby car seat cover
We got a hand-me-down and it became an essential item. A car seat cover is an extra layer of protection for the baby from the environment and it makes me feel better. It was a great sunshade in Hawai'i and a protective layer at the airport. It creates a cozy cocoon environment for the baby when she naps too.
Portable diaper changing pad
A portable diaper changing pad was one of the gifts from my baby shower and it's been the most used item. It was the first time for us to use a public bathroom's changing table and I would not want to put my baby on it. Those public changing tables were supposed to have a paper sheet but of all the ones I've used since we left home, there was only one that had it. Also, not all public bathrooms have a changing table so you have to be creative. We changed a diaper in many places and the portable pad came in very handy. (Thank you, Catherine!)
Toy for the long ride
Some days we were in the car for a long time. As a three-month-old, she can be easily entertained but it was good to have a soft book in the car. I got one that's cheap and cute it came really useful. There are also car seat toys that come in handy.
Baby carrier
I have two kinds of baby carriers, a buckle type and a wearable wrap, and I love them both. Basically, my baby was on my Baby Bjorn during the entire vacation. Even the time when she was in a stroller, I always brought the carrier as a backup. She sleeps better in there and I could shield her from the sun with a swaddle blanket over her in the carrier. However, babies shouldn't be in one position for an extended amount of time, so make sure to check if your baby is comfortable and take breaks in between.
White noise machine
A white noise machine was another baby shower gift. When I received it I second-guessed the selection. But quickly it became essential in the bedroom! I don't know if it actually helps the baby sleep better but it certainly helps cancel out noises so a baby doesn't get startled by all noises. While traveling you can't always control what noises are around so it was helpful to have a white noise machine. When my baby fell asleep I turned on the machine and we could move around the room. Maybe it's just peace of mind for me but it's helpful nonetheless. I have this one and it's so portable!
Swaddle blankets
Swaddle blankets are one of the biggest staples in nurseries. Newborn babies are supposed to be swaddled, hence the blankets. My baby did not like to be swaddled from day 1. We received many sets of swaddle blankets and I tried swaddling her but it was a struggle no one was happy. But swaddle blankets are super useful other than their designated purpose! It's a lightweight blanket, sun shade, nursing cover, cocoon over the baby carrier, burp cloth, and many more. I'm sure my baby is not the only one who doesn't like to be swaddled. Channel your swaddle blankets for something else!
How about you? What are some of your favorite and useful items? Please share! Tips from fellow parents are the best. We're looking forward to many more family trips.
Looking for more inspiration for your trip to Hawaii? Check out these posts!