The Best One-Day Trip To Hawaii Volcanoes National Park
Hawaii Volcanos National Park is one of the most stunning places in the world and belongs at the top of your travel bucket list. While you could spend many days exploring Hawaii Volcanoes NP, you probably don't have that kind of time.
Follow our incredible adventure in Hawaii Volcano National Park, where we help you discover the best trails, where to see the lava up close & tips for getting every bit out of an epic day trip to Hawaii Volcano National Park.
Geologically speaking, Hawaii is one of the most fascinating places in the world. It is living, breathing, and changing every day. The Big Island's land area grew after the recent eruption in 2018.
I wanted to see the fiery landscape, so we flew to the Big Island. It helps that there are often cheap airfares between Alaska and Hawaii.
Hawaii Volcanoes National Park is home to Kilauea, one of the world's most active volcanoes. We took our big adventure to Hawaii Volcanoes National Park, which encompasses two of the world's most active volcanoes – Kilauea and Mauna Loa.
How to get to Hawai'i Volcanoes National Park
Driving From Hilo: 30 miles southwest on Highway 11 (45-minute drive).
Driving From Kailua-Kona: 95 miles southeast on Highway 11 (2 to 2.5-hour drive), or 125 miles through Waimea and Hilo via highways 19 and 11 (2.5 to 3 hours).
Driving From Waikoloa: 90 miles southeast on Highway 200 (2-hour drive).
Details About Hawaii Volcanoes National Park
Location: The Big Island of Hawaii
Established: August 1, 1916
Size: 323,431 acres
Native Land: Aliʻi
Visitors: 1,116,891 (2018)
Entrance Fees: $30 per vehicle
Maps: Hawai'i Volcanoes National Park Map at NPS.gov
In Hawaiian religion and legend, Pele is the goddess of volcanoes and fire and the creator of the Hawaiian Islands. Hawaiians also believe that Kilauea is a place for the family of fire gods, and Pele governs Kilauea and controls its lava flows. Her home is Halema'uma'u, at the summit of Kilauea. She is both destructive and creative.
Kīlauea Visitor Center
I always make a point to stop at the National Park visitor centers in the US. They are full of great information, friendly park rangers, and often have interesting souvenirs. This is the place to start your adventure if you collect national park stamps (like me!). Kīlauea Visitor Center is no exception.
They had informative movies about the park, and I liked the one about Halema'uma'u. The park rangers gave us some good ideas for day hikes and places to visit.
It's a big park, and it would be difficult to visit every landmark on the map, so it was helpful to chat with them to narrow down our to-do list.
How to see the Halema'uma'u Crater in Hawaii Volcanoes National Park
The crater is visible from many lookouts, but check out the view behind the Volcano House. The Volcano House offers a spectacular view of Kīlauea Caldera through its giant lobby windows facing the volcano crater.
The hotel's balcony attracts plenty of visitors enjoying the views of the volcano. We could see the steam coming out of Halema'uma'u and the majestic lava lake and crater.
Here is an in-depth review of the Volcano House hotel.
This is where the goddess Pele resides. It is one of the most active volcanic vents in the park. As recently as May 2018, the active lava flow was visible, and the crater eventually collapsed, creating a much larger crater.
One of the movies at the National Park Visitor Center highlights the activities of Halema'uma'u.

Halema'uma'u Crater Hike
The Halema'uma'u Trail begins right behind the Volcano House just off the Crater Rim Trail. It stretches 1.3 miles (2.1 km) one-way from Crater Rim Trail to the top of Uēaloha (Byron Ledge), where it allows for longer hikes to Kīlauea Iki and Nāhuku (Thurston Lava Tube).
The Halema'uma'u Trail descends 425 feet, leading you down to the bottom of the Halema'uma'u crater through a rainforest. You will experience sweeping views of the mighty craters on the floor of Kaluapele (Kīlauea caldera).
The hike takes approximately 1 – 1.5 hours to complete.
Upon your return, you can hike the Kīlauea Iki Trail and beyond.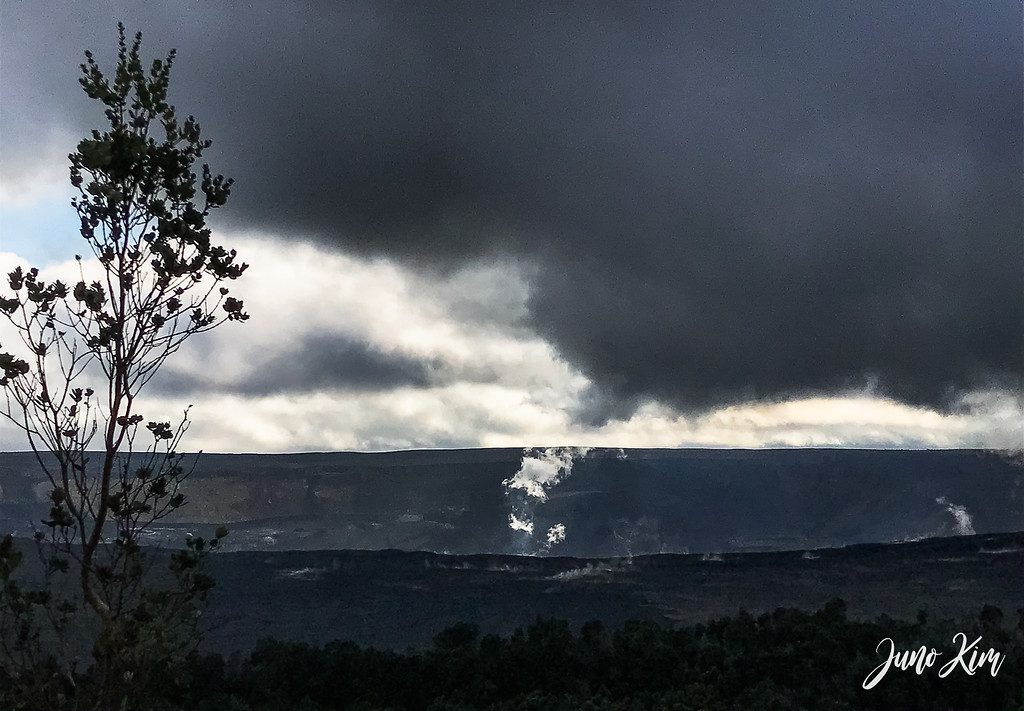 Steam Vents in Wahinekapu
Many steam vents are visible within a short half-mile walk (or drive) from the visitor center. Groundwater seeps down to the hot volcanic rocks and returns as steam.
You can safely feel the heat from the Kilauea Volcano by exploring this particular thermal area.
We noticed the landscape changing from rainforest to grassy fields in this volcanic area because tree roots cannot survive in the heat from the steam.
Shallow-rooted grasses and plants are the only vegetation to survive in this area.
From here, you can take a short quarter-mile walk on a trail from the Steam Vents parking area to Steaming Bluff, on the caldera's edge.
The site is a grassy meadow with ground cracks and steaming concentrated in fractures along the caldera's edge.
More cool places to hike: Hike the Active Volcano in Java, Indonesia, Hike the Redwood Forest in CA, Hike the Jirisan National Park in South Korea, Hike Curry Ridge Trail in Denali State Park
Crater Rim Drive & Kilauea Iki Trail
Walking on an active volcanic crater is a once-in-a-lifetime experience, and the Kilauea Iki Trail will take you there.
The crater is accessible from Stop 3: Kilauea Ili Overlook, 5: Puʻu Puaʻi Overlook, or Stop 6 Devastation Trail. Follow Ahu (stacked rocks) that mark the trail across the crater floor.
Chain of Craters Road & Picnic at Kealakomo
How long does it take to drive through Hawaii Volcanoes National Park? The drive down Chain of Craters road takes 1.5 to 2 hours round trip; however, if you stop a lot and take hikes, which you likely will it will take much longer.
Chain of Craters Road stretched 18.8 miles (30.3 km) to the end of the road. From the top, the route travels from 4,000 ft. elevation to sea level.
Give yourself plenty of time for this drive. We were there all day and could only take a short lunch picnic at Kealakomo and then visit the Pu'u Loa Petroglyphs and Hōlei Sea Arch.
TIP: Food, water, or fuel are NOT available along the Chain of Craters Road. Accessible toilets are available at the Maunaulu parking area and the end of the road.
Map: Chain of Craters Road map at NPS.gov
This must-do drive along the volcano's East Rift Zone offers a spectacular view of many craters, lava flows, petroglyphs, and at times, active lava.
It was eerie to see the black lava flow over green fields. It took me a while to realize that it was a series of lava flows that I was seeing. The brain takes a bit to process if you see something for the first time.
On this drive, stop at Kealakomo for a picnic to enjoy its superior view of the coastline, lava flows, and an almost 360-degree view of the surrounding area.
Pu'u Loa Petroglyphs
Petroglyphs in the middle of lava fields? I didn't expect it. Pu'u Loa Petroglyphs is at the Stop 7 of Chain of Craters Road. The Pu'u Loa Petroglyphs have more than 23,000 images, including geometric motifs, human portraits, animals, and other cryptic designs.
The raised boardwalk around the site is excellent for a day hike. Pu'u Loa, translated to "long hill," is considered a sacred area for the people of Hawaii.
Hōlei Sea Arch
The Chain of Craters Road leads to Hōlei Sea Arch. The road condition might change depending on the volcanic activity.
The end of the road was closed when we were there (December 2022), so we parked and walked to see the Arch.
The sea arch is about 90 ft. (27.4 meters) high. It looked like it could collapse at anytime. According to the National Park rangers, the sea arch will eventually crumble, but another will replace it as the cliff slowly migrates inland.
Tips for Seeing Hawaii Volcanoes National Park in One Day
The lava situation is ever-changing in Hawaii – How much lava flows or accessibility to viewing points can vary daily, so Check current park conditions before visiting.
Limited Cell Service – There is minimal service when driving the Chain of Craters Road. However, there is an emergency phone located at the Puʻuloa Petroglyph trailhead.
Bring plenty of water as basic supplies such as food, water, or fuel are unavailable in most places within the park and along the Chain of Craters Road.
Always check the weather before hiking in Hawaii, as rainfalls can cause treacherous conditions quickly. Consult the Division of State Park's guide for safe hiking preparation.
NO Shuttles in Hawai'i Volcanoes National Park – Visitors will need to bring their mode of transportation. The best option is to rent a car.
Reef Safe Sunscreen – Most sunscreens are illegal in Hawaii due to the effects of the chemicals in them on the coral reefs. 
Dogs are not allowed on trails in most national parks due to their potentially disruptive presence in the natural ecosystem.
The basic rule is they are permitted where cars can go, so be sure to check the rules before bringing along your furry friend.
The Best Bucket List Travel Ideas: Moai of Rapa Nui (Easter Island), See the Northern Lights in Alaska, Explore Nuuk Greenland
Nene | Hawaiian Goose
One of the trip's highlights was meeting the nene, Hawaii's official state bird. We ran into a lone nene in the park. It was the cutest and friendliest bird ever!
It wasn't afraid of us and was curious about my camera and hung around for a while. We enjoyed meeting this special bird.
Nene is the rarest goose in the world. It was once common in the Hawaiian islands, but hunting and introducing mammals hurt its population. It is now back from the brink of extinction. But it is still protected.
Camping at Nāmakanipaio Campground
Namakanipaio Campground is hands down, the nicest-smelling campground. This place is filled with eucalyptus trees, so it smells like a cough drop all day. It was such a great feeling, waking up with this fresh smell of moist air.
We especially liked having a covered picnic area to cook and avoid the rain. It's managed by the Volcano House in front of the Visitor Center. You can make a reservation, pay by phone, or drop by the hotel to process.
Final Thoughts on This Day Trip to Hawaii Volcanoes National Park
Is Hawaii Volcanoes National Park worth visiting?
In a word: YES! Hawaii Volcanoes National Park is a national park like no other. Where else can you see an island grow almost under your feet, especially while on vacation?
With just one day at Hawaii Volcanoes National Park, you can explore this world of amazing volcanoes, drive across its craters, and hike into the remains of its volcanic explosions.
Looking for more inspiration for your trip to Hawaii? Check out these posts!