This is for all pumping moms.
Are you pumping breastmilk? Are you commuting or traveling? Are you tired of walking to the fridge in the middle of the night? I can say with confidence that if you are a breastfeeding and pumping mom, you need Ceres Chill Breastmilk Chiller. I only found out about it after three months of breastfeeding and was kicking myself for not having it before. Here are many reasons why. 
Ceres Chill is the best way to travel with your breast milk
That's it, the number one reason to have Ceres Chill. This innovative system helps you store your breastmilk safely for 20+ hours with just a handful of ice cubes. Does it work? YES!
When we were preparing for our first family trip to Hawai'i, I wasn't confident about how to pump and breastfeed while traveling. Without much research, I planned to have a small cooler (like a lunch bag) and an ice pack with bottles of breast milk. Right before my trip, my friend asked, "Have you heard of Ceres Chill chiller?". She went through a similar pumping journey and she said it was a huge help for her. She generously let me take it on our trip.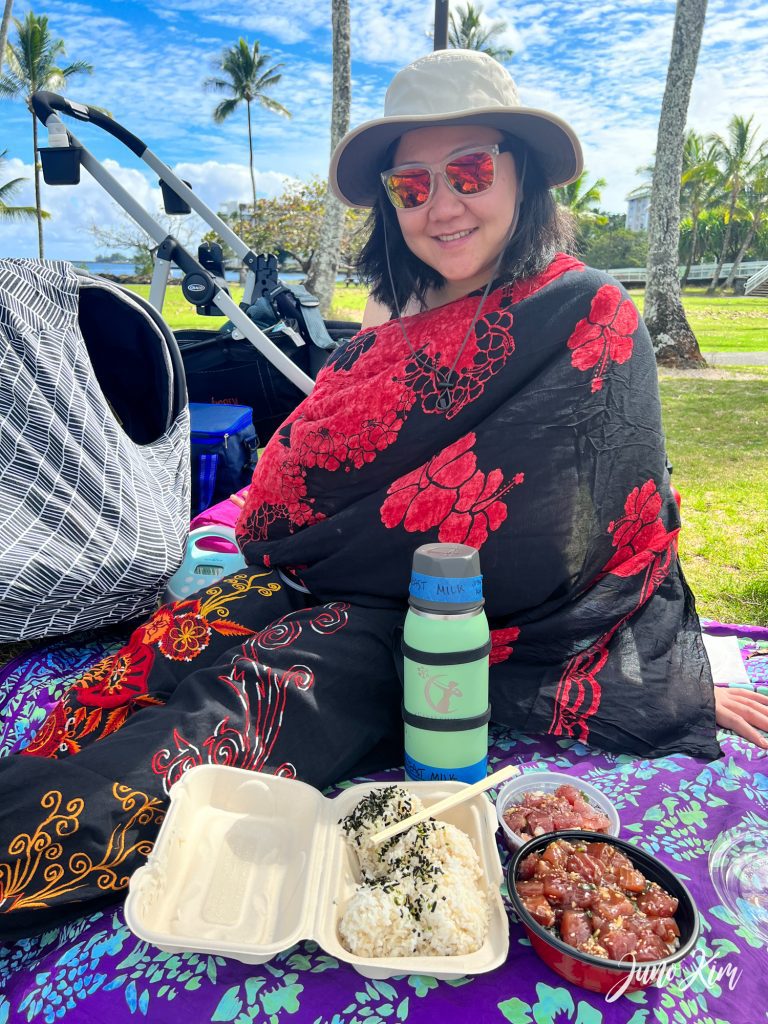 I traveled to Hawai'i for two weeks with Ceres Chill Breastmilk Chiller and it worked beautifully. Looking back, I wouldn't have been able to travel with ease without it under the hot Hawaiian sun. After using it for a day, I immediately decided that I needed one for myself. 
It's like a big hydro flask water bottle but there's a lot more than that. As a former engineer, I do love things that function well and this was so satisfying to use.
The question is, how does it work?
How to use Ceres Chill
There are three main ways to use it. There are two parts that your breast milk can go in to travel: the inner chamber or outer chamber.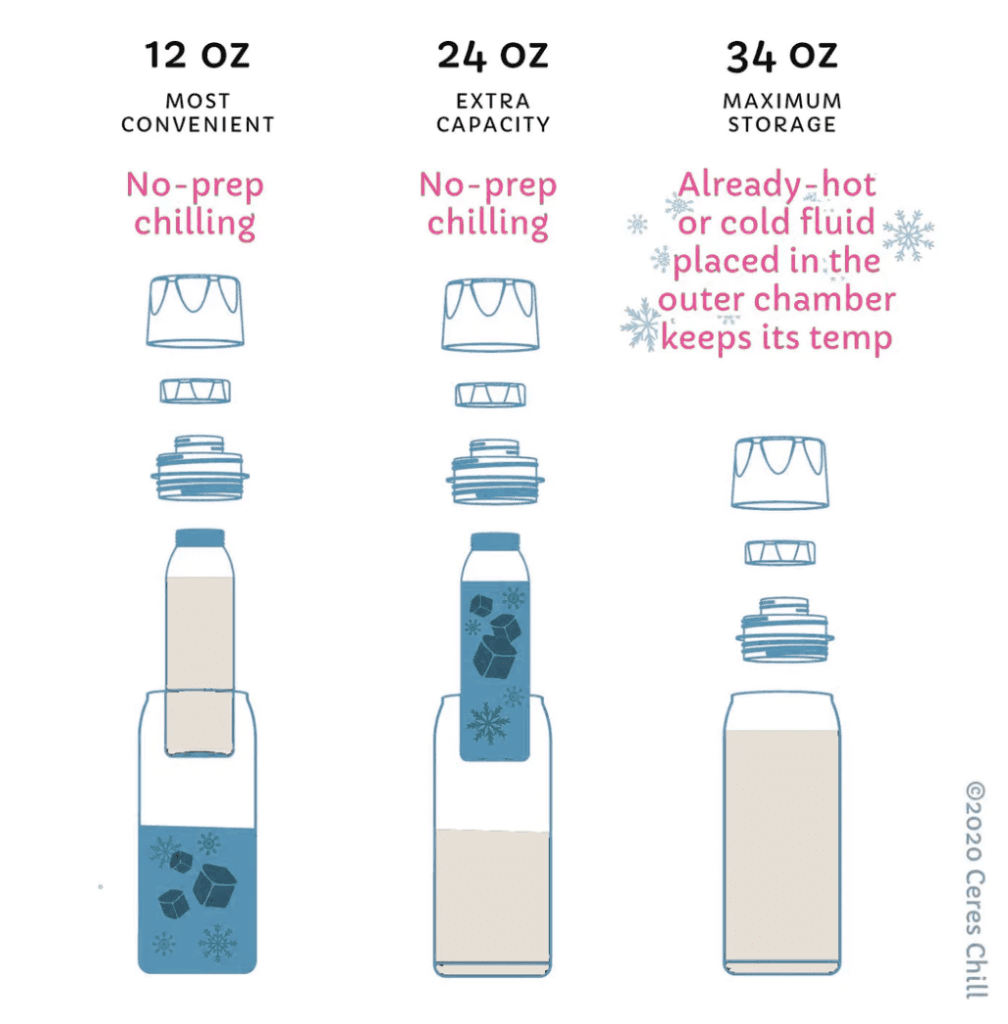 12 oz method
Put a handful of ice cubes and a splash of water (that helps the ice cubes move around easier) in the outer chamber. Your breast milk goes in the inner chamber. Screw it in and you are ready! It's really that simple. As an average producer, this method worked well for me.
24 oz method
This is the reverse process. Your breast milk goes into the outer chamber and ice cubes go into the inner chamber. If you're traveling for several hours, you can freeze your inner chamber with water the night before. Make sure not to fill it too high, otherwise the water will overflow.
Pump right into it
If you're using a narrow neck pump such as Medela, the inner chamber and assembly of lids can be used as your breast milk collector. For a wide-neck pump, you can use the connector.  
Nightstand must have item
I use my Ceres Chill Breastmilk Chiller even at home. I told you I'm a fan! You know what it's like, walking to the fridge in the middle of the night with a bottle of breastmilk… And you have to walk back to get it to feed your baby in a couple of hours. My kitchen is downstairs so it was a lot of walking back and forth in the beginning. Pumping is already a lot of work so this is just an additional stress. I prepare Ceres Chill at night for my nightstand. No more walking to the fridge at night! I pump and pour the milk right into it, and back to bed. I really wish I had this during the first month of newborn phase!
Wash it with confidence
Ceres Chill just reads your mind. Have you ever wondered how to sanitize your pump parts while traveling? Hotel sinks are regularly cleaned especially after COVID-19, but I don't feel comfortable with my pump parts and bottles touching the bottom of the sink. We don't even do that at home. So, what do we do? 
Check out the All-You-Need Washbasin Bag. This is another reason I love this brand. They thought of everything. It includes:
Durable, water-resistant canvas material lined bag
Easy-squeeze bottle for soap
Two-piece bottle brush
Super-soft microfiber towel
The bag dries pretty quickly. It also rolls up with a stretchy band for packing. Yes, it became my trusty go-to package for my pump bag. Not pictured here is the super soft microfiber towel, since it was drying after I used it.
What about when I'm done pumping?
What do I do with my breast milk chiller when I'm done pumping? Do I store it until I have another baby? Well, that is one way but there's an alternative. Did I mention that it's one bottle that does it all? Of course, they thought of it too. They have a Happily-Ever-After Bundled Set that includes:
A fine-mesh Tea Infuser and Flip-and-Sip Straw Top lid to transform your outer chamber into a tea or water bottle
A set of their patent-pending "Super Easy Sipper" press-on silicone lids transform the inner chamber, narrow neck baby bottle, or standard juice bottle into an on-the-go toddler sipper cup
An extra inner chamber
It becomes your hydration bottle after being used to feed your baby. Ah, the circle of life.
What I love most about Ceres Chill Breastmilk Chiller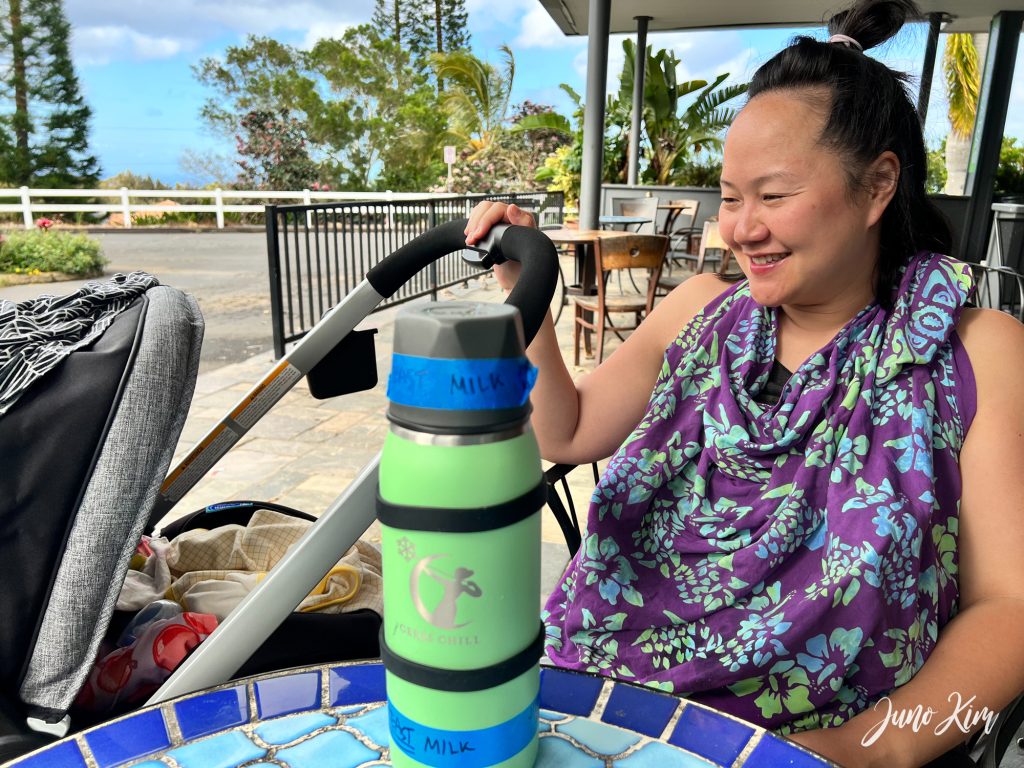 The peace of mind. It's such a relief to know that your breast milk is safe. If you are still feeling nervous, you can always refill the ice cubes. It's easy to get ice when you are traveling. Think of coffee shops, food courts, and hotel ice machines. 
It's stylish. It looks like a big water bottle. It doesn't scream "breast milk". 
Simplicity. I love how it simplified traveling with breast milk. No need to bring a cooler + ice pack + bottles. It fits right in your bags and no need to worry about spills. 
The one bottle does it all. As a former engineer, I do appreciate when things work so well together. This one bottle with a handful of parts can do so much. It's like a fun and very useful puzzle. I love it. 
TSA approved. Since it's liquid, it has to be screened at the TSA desk. All they need to do is to test the vapor coming out of breast milk. When I traveled with the 12 oz method, I simply opened the lid, and they hover a strip of test paper over the bottle (didn't touch anything). 
The branding. I'm a fan of good branding. I love the color first of all, and I love that they used Ceres as their logo. She's the goddess of motherly relationships, agriculture, and fertility. As a lover of mythology and my name (Juno is also a Roman goddess, the counterpart of Hera in Greek mythology), I feel a special kinship. 
Ready to get your own Ceres Chill Breastmilk Chiller or other breastfeeding and pumping support products for your successful journey? Great!
Use the code "RunawayJuno" to receive 15% off!
Disclaimer
There are affiliate links here that will earn me a small commission but at no cost to you! I wouldn't have written this long and descriptive love letter if I didn't personally use and love this product so much. As a breastfeeding and pumping mom, I truly believe in Ceres Chill and it's making my life so much easier. I'm about to travel internationally and I'm excited to take her along!