Is Anchorage a happy city?
Anchorage, Alaska has been my home since 2017. After nearly a decade of digital nomad life, Stephen and I settled in Anchorage (at my insistence). I visited Anchorage twice before making the decision. Once in frigid January and once in autumn, a few years apart. Alaska is one of those destinations that make people go "I've always wanted to go there!". Wouldn't you? I haven't yet met anyone who says "Alaska? Nah…". 
However, visiting a destination and living there are two different matters. You have a different perspective when you are visiting for a limited time. What's frustrating to locals can be a rugged charm, and what's fascinating to visitors can just be day-to-day life for residents. 
Recently Anchorage was named one of the 15 happiest cities in the US by Outside magazine. That's amazing considering how big this country is. It's a huge achievement and locals are thrilled about it! But is it a perfect place to live? Certainly not and nowhere is. But it is good enough to be on the list of happiest cities in the country. Here is why I love living in Anchorage, Alaska. 
Stunning scenery 
What I fell in love with Alaska was the stunning views where the ocean meets the mountains. Anchorage is surrounded by mountain ranges and it's right by the ocean and many waterways. Mountains here are not necessarily tall but because of the low tree line due to our high latitude, they look like the peaks of the Rocky Mountains. I was stunned to see the view of the Turnagain Arm, where these huge mountain peaks just shoot straight up from the water. And there's a scenic section I really love along the Glenn Highway near Palmer, when the highway crosses the Knik River. Being surrounded by beautiful scenery adds something to our quality of life. 
Accessibility to nature near Anchorage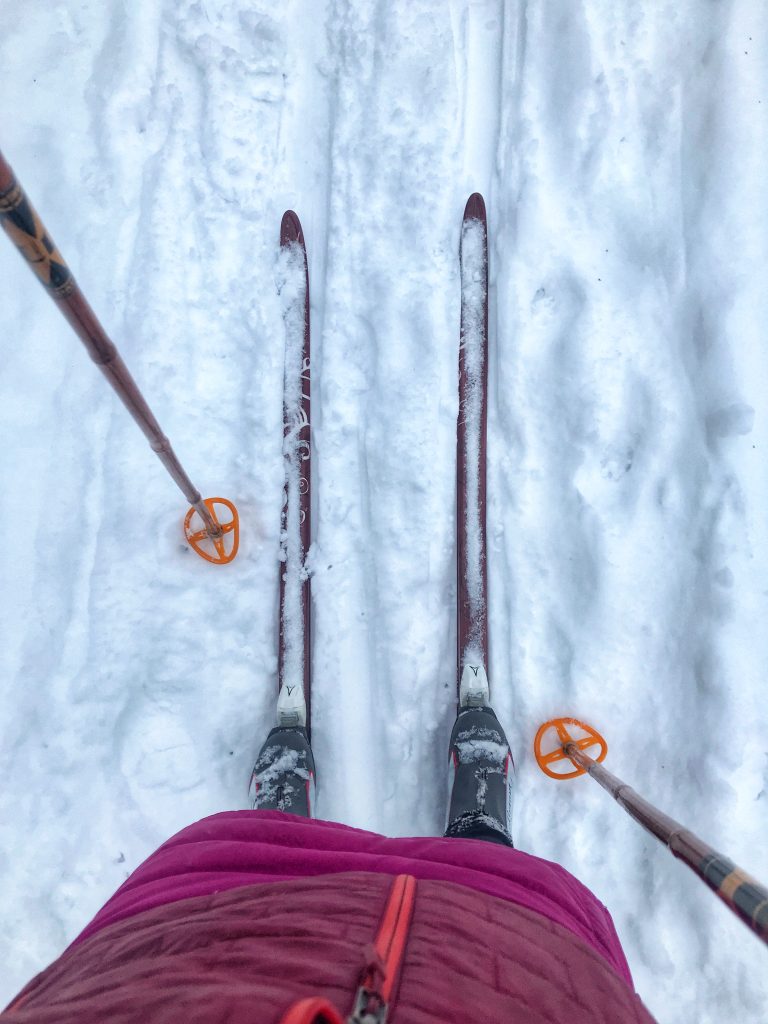 As it's highlighted in the article, accessibility to nature is second to none in Anchorage. In winter we ski right from our door. We go for a walk in the forest by our house every day. There are paved and multi-use bike trails all over the city. You can be in the mountains within a 20-minute drive from downtown. If being near the outdoors is important to your happiness, you will find that in Anchorage.
Statistical Trail Information on Municipality of Anchorage
| | |
| --- | --- |
| Paved bike trails/multi-use trails | 120+ miles/195 kms |
| Plowed winter walkways | 130 miles/216 kms |
| Maintained ski trails | 105 miles/175+ kms |
| Dog mushing trails | 36 miles/60 kms |
| Summer non-paved hiking trails | 87 miles/145+ kms |
| Lighted ski trails | 24 miles/40 kms |
| Ski-joring trails | 66 kms |
| Equestrian trails | 10 kms |
Diverse culture
Anchorage is a diverse city. It was and still is a homeland and trading grounds of Alaska Native Peoples. Although the majority of the population is white, there are a large number of Alaska Native residents as well as Asians, Pacific Islanders, African Americans, and more. Depending on where you go in Anchorage, you could be standing in some of the most ethnically diverse areas in the country.
The Alaska Native culture was one of the main reasons why I loved traveling in Alaska. Cultural travel has always been my focus, and the cultures and traditions of Alaska Native Peoples really fascinated me. I started learning the Iñupiaq language and met some amazing community leaders and culture bearers. 
Although different cultures are not integrated so well, they are here if you look for them. One school district here is very diverse. There are many small specialized markets and churches, and you hear different languages in certain neighborhoods.
Subsistence living 
Alaska Native Peoples have been living off the land for centuries. Now in the modern world, the tradition continues. A subsistence lifestyle is for all seasons. In summer, Anchorage residents dust off their fishing gear and head south to the Kenai Peninsula. Or for a quick fishing jaunt, we head to Ship Creek in downtown Anchorage. Foraging from spring to early fall for fiddlehead fern, fireweed shoots, a variety of plants, and all sorts of berries. Experienced foragers all have their secret spots. Outside of Anchorage, in the far north of Alaska, whaling for bowhead whales happens in spring and fall. Throughout the year the Indigenous People harvest seals, walrus, birds, and other animals. 
I was lucky to witness a successful fall whaling in Utqiagvik, and it was such a powerful experience. Hunting is an interesting concept here. I learned that people believe that animals give themselves to help people sustain themselves. There are many personal stories out there about special connections between hunters and whales, seals, and other animals right before they were killed. We are all part of the circle of life and that's how we learn to appreciate and protect the land that sustains us. 
Winter 
We have an 8-month-long winter. Most of the time from October to April the streets and trails are covered by snow and ice. There's only 5.5 hours of daylight on Winter Solstice which can feel very dark. Nonetheless, Alaskans know how to make the best of winter. When the temperature gets lower, we take out fat bikes, cross-country skis, winter hiking boots, and wait for the first good snow day.
Summer here is really beautiful. There's almost no other place I want to be when it's a warm and sunny day in the mountains. But on some level, I prefer winter to summer.
Because of the abundance of multi-use trails in Anchorage, we can go for a walk, hike, run, bike, ski, dog mushing, or all of the above. Alaska has the misconception that it's always frigid cold, but Anchorage has a pretty mild winter because it's surrounded by water. We have a subarctic climate that is moderated by the coastal location. Yes it can get down to -10F (-23 Degree Celsius) at times, but that's only for a week or so. In winter, you can expect somewhere between 0 ~ 20 degrees F (-17.7 ~ -6.6 degrees Celsius). Most of the trails in the city have street lights. There's nothing more refreshing than a round of cross-country skiing after a long day of work. And of course, the beautiful display of northern lights is another reason to love being here. You can go aurora hunting near Anchorage!
People 
It always comes back to people. As much as I was infatuated with the scenery of Alaska, the people of Alaska made it better. On the streets of Anchorage, people say "Hi, how are you?" like you would in other places, but here people actually stopped and talked. It's the biggest city in the state but there are only around 300,000 residents in the land that's the size of Delaware. If you've been living here for a while, you're bound to run into someone you know wherever you go. 
I liked how people were so laid back and welcoming. It reminded me of my time in New Zealand and how I learned what it meant to be open-minded. The love of nature is engraved in daily life here. Alaskans know how to appreciate good weather days, enjoy community events, and make the best of a long winter. Alaskans have a pioneer-like mindset, which is fitting because historically that's the kind of people who made their way up here.
As someone from one of the biggest cities in the world, Anchorage feels like a small town. It is a small town. But as it's the biggest city in the state, it's considered "the" city to a lot of people. Anchorage has big city amenities such as hospitals, museums, schools, supermarkets, performing art centers, and so on. It's certainly an interesting place to be. 
So, is Anchorage a happy city?
Is it the happiest place in the country? It can be. Especially if you love nature and the outdoors, this is the place you want to be. Why go to a gym when you have a mountain range and a trailhead right by your house? But it can be frustrating to live here for logistical reasons. You can't always buy something you need and online shopping takes a while to get here. Because we have to import most of our produce, food and groceries are expensive. Alaska is like an island since we share a border with Canada. It takes a long time to travel anywhere since we often have to use Seattle as a hub. So it's a matter of priority. 
I've been on my quest of finding 'home' since I left Korea to travel. Anchorage is the place that came as close to home as any other place I've been so far. It's not perfect but it's home to us.