Female Solo Travel. You Can Do It Too.
Travel alone as a woman can be overwhelming, especially if this is your first time. I get questions like 'Aren't you afraid?', 'How can you travel alone?', 'How do you keep yourself safe?', 'Aren't you lonely?', and the classic 'Why do you travel alone?' all the time. Now I'm experienced and chill most of the times, but I also worried about these when I first started traveling and mostly solo.
The first time I traveled alone back in 2004, I held so tight on my money belt in New Zealand, which is probably the safest country in the world. I even brought it into my shower. But as time goes by, as I've gained much more travel experience, I found out that there are more good people than bad. I've been to some of the most obscure places around the world, but the world and people were always so kind to me. The news always highlights the negative news rather than the positive because it's more newsworthy. No matter where you go, it will be a place where people live, have family, laugh, love, create, and share. There's no reason to fear even before you leave. But I accumulated some knowledge over the years. Do you want to know my secret?
Enjoying beautiful beaches in Gold Coast, Australia
Be confident
The attitude says it all. Even if you don't know where you are and where to go, act confident. Read a guidebook or two beforehand. Study the map before exploring for the day. Picking up the local language is also important to be confident. If this is your first time traveling solo, not too worry. People are way more capable than what they think.

The world is all yours! Great time at Roberto Barrios, Mexico

Know your strength
Traveling is one of the best methods to get to know yourself. With this experience, you'll know your strength and weakness. For me, I don't really have a great sense of direction unlike my husband. I need a map to follow, while he can just point and head to the direction. So it's important for me to notice buildings, surroundings, and street names. On the other hand, I'm quite good at remembering details and people's faces. I can go back to a place based on what I've seen. That's my strength and utilize it well.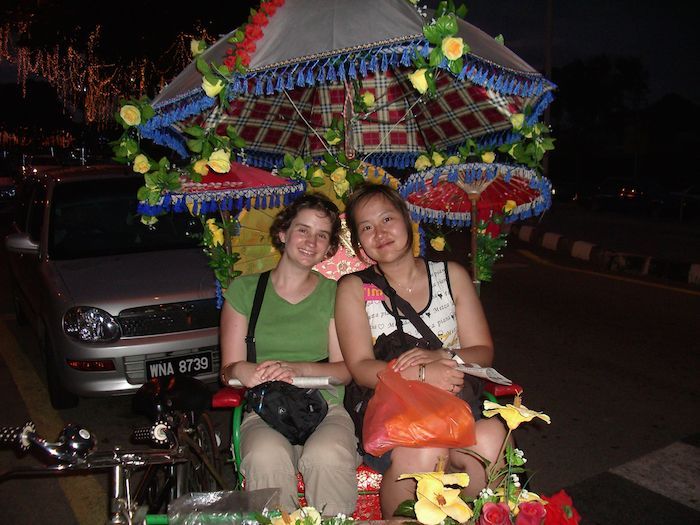 I met Jenny at a hostel in Singapore, and we became a life-long friends!
Pair up: solo travel doesn't mean alone travel
"How can you be alone all the time?" Waking into the gate alone at the airport would naturally make you think that way. What is the fun in traveling alone? But, worries not. Solo travel doesn't mean that you'll be alone. In fact, it's a lot easier to meet fellow travelers when you're alone. When I first got into traveling, staying at a hostel and meeting other travelers were like a natural high for me. It was the most amazing experience. I ended up meeting life-long friends. At a hostel, night market, popular landmarks, trains and buses, there are plenty of places where you can meet a travel buddy. Solo travel is not an "lonely travel"!
Following the yellow brick road
Stick to the basic
We all grew up with certain safety tips from our parents. Don't follow a stranger even if they buy you ice-cream. Don't bring lots of cash in your pocket. Don't go out at night unless it's necessary. Don't put your wallet in the outer pocket of your bag. Always keep an eye on your bags. Don't drink something you don't know. The same rule applies.
Secret weapons: moneybelt, fake wallet, lock
I'm a strong believer of a moneybelt. I started wearing ever since the beginning and never took it off. Thankfully robbery never happened to me (knock on wood), but it always gave me a piece of security. I separate my credit cards between the moneybelt and wallet. I also bring an empty wallet with membership cards of some random places and fake credit card, like the one comes with a new wallet. When the situation comes, hopefully never, hand it over to the robber like it's your real wallet. A lock is also such a simple but important item you should travel with. When you're leaving your bag in your hostel (or hotel), using one of their lockers, and so on, there are a lot of ways to utilize your lock.

Chillin' in Shaxi, China
Stand up and leave
If you feel uncomfortable in any situation, get up and leave. It's okay. I've had the same experience for many times. For example, one time in a toy train to Shimla, India, I felt that the guy next to me was sitting overtly close to me. It was in a small carriage with narrow chairs but he was constantly leaning on me. The train ride was for several hours, and it made me uncomfortable from the beginning. So I stood up and sat on the doorway, along with other Indians. From the experiences, I've learn that some people just have different sense of personal space than others not that they have bad intentions. I confess, I had a hard time in India. It was a realization. But it's okay to protect yourself and keep your boundary.
Travel insurance is good for peace of your mind
Thankfully, I haven't had a chance to really use my travel insurance except when my laptop got smashed in the middle of Outback Australia. Thanks to my trusty friends at World Nomads, I got little bit of fee for my laptop. Other than that I haven't had any serious health or robbery issues so far (knock on wood). But I always, always purchase travel insurance no matter how short the trip is. For me it's more for peace of my mind than practical practice. Getting an insurance means that I'm preparing for the worst but hoping not to use it, right?