So, let's talk about via ferrata.
How many of you have done it or even heard of it? The first time I got to know this foreign concept was while translating Sabah Tourism's website from English to Korean back in 2014. The tallest mountain in Southeast Asia, Kinabalu Mountain is one of the only places in Asia where you can experience the thrill of Via Ferrata.
So, what is via ferrata?
Via Ferrata is Italian for "iron road". The history of via ferrata goes back to the First World War when several routes were built in the Dolomite mountain region of Italy to aid the movement of troops. As popularity has grown and the tourism benefits have been recognized, many more trails have been developed in recent years, especially in Europe and Canada.
The modern via ferrata is a steel cable that runs along the route and is periodically fixed to the rock, which prevents climbers from falling. Additional climbing aids are also used, such as iron rungs, steps, ladders, and bridges. The advantage of via ferrata is that it allows relatively inexperienced climbers to experience climbing extreme routes or peaks that would otherwise be impossible. But good understanding of equipment, basic technique, and a good head for heights are required.
The challenge
Height
First and foremost; the height. If you are afraid of heights, via ferrata can be challenging. As this is a climbing activity, you have to be comfortable with hanging on the side of a rock cliff, crossing a narrow wooden bridge, and 'death bridge' or sky bridge. If you're trying a via ferrata with a fear of heights, try breathing deep three times and remember that you're safe. Concentrate on your route, where you step, and you'll be able to enjoy the dramatic vista in no time!
Getting used to the technique is also very important, since it's directly connected to your safety. The harness comes with one or two carabiners which you'll clip to the guiding cable at all time.
Trusting the gear
How can this small clip hold my weight? How can I hang from the side of a rock cliff with this cable? It's natural to question, but trust your gear and trust your guides. If you're careful and follow the basic rules, via ferrata is a safe sport.
Trusting yourself
We are far more capable than we give ourselves credit for. That's what adventure travel is all about. Pushing the boundary, discovering yourself, and achieve something unimaginable. Imagine how awesome it would be to see the view from the top of this rock cliff!
Via ferrata through Quebec
Who knew, Canada, including Quebec is the world's leading via ferrata destination? During my recent trip to Quebec, I experienced four via ferrata trails (just learned plural of via ferrata is vie ferrate or via ferrets). We could have done more if we had time; if there's a rock wall, there is a via ferrata. It became a running joke between our group since we saw via ferrata trails wherever we went.
Parc national du Fjord-du-Saguenay (Saguenay Fjord National Park)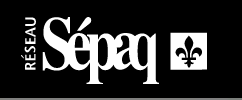 Seeing the fjord from sky! There are three circuits that provide incredible views of the ever-changing Saguenay Fjord's bay by the tides. Trails here are equipped with iron rungs, steps, and ladders the whole way. My favorite part was hanging on the sky bridge while looking at the dramatic vista.
The park also provides various activities such as cruising, fishing, camping, sailing, hiking, biking, sea kayaking, show shoeing, and more.

Parc national du Fjord-du-Saguenay website
Via Ferrata Palissades de Charlevoix
"The most spectacular in Canada" is at Palissades de Charlevoix. Indeed. It was my favorite adventure day in Quebec with a via ferrata, sky bridge, and rappelling in one sweep. This trail is a bit different than the one in the Saguenay Fjord National Park. Made by the charismatic owner and professional mountain climber François-Guy Thivierge, this trail allows visitors to get closer to the natural rock surface. The trail was created with minimal installations of iron rungs and steps. It would be a great place to train for rock climbing.
An author of a bestselling book and professional mountain climber, François brings much energy to this park. He's climbed the Seven Summits (the highest mountains of each of the seven continents) of the world and completed expeditions to both poles. His passion made me so happy. Passionate people inspire me!

Palissades de Charlevoix website
Canyon Sainte-Anne
With the impressive 74m waterfall as a backdrop, Canyon Sainte-Anne offer various activities including via ferrata operated by Project Vertical. Only 25 minutes away from Quebec City, Canyon makes a great place for a short day trip. The via ferrata here brings you close to the waterfalls, allowing you a breathtaking view.

Canyon Sainte-Anne website
So, the world is a small place indeed. I mentioned that I got to know via ferrata from Kinabalu Mountain, right? Well, funny thing; while I was visiting Parc de la caverne du Trou de la Fée in Saguenay-Lac-Saint-Jean for zip-lining (with a short via ferrata) and rafting, I met the people who installed the via ferrata trail in Kinabalu Mountain. I'm amazed about this world every day.
Take a look at Via Ferrata Quebec's website to see where you can walk on the iron road in Quebec.
What do you think? Would you do it?