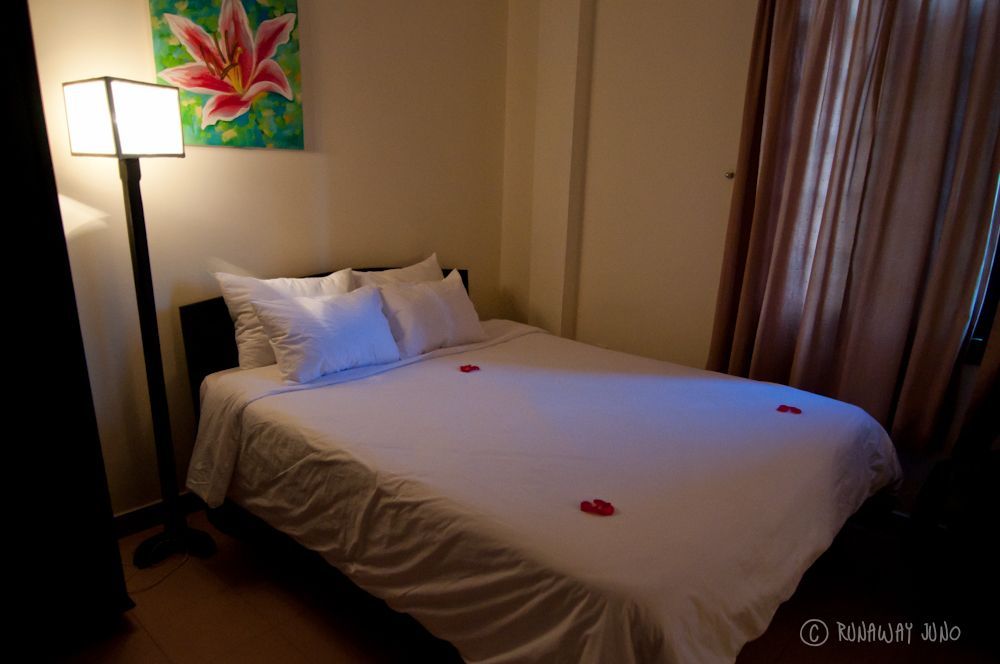 Jade Hotel Hue, Vietnam
| | |
| --- | --- |
| Accommodation | Jade Hotel Hue @ Hue, Vietnam |
| Location | Located in the city centre of Hue, Vietnam |
| Internet Access | Wi-Fi in every floor and strong connection in the room. |
| Room | I stayed at private double room. Air-conditioned, comfortable bed, well-equipped and clean. |
| Travel Information | Map and travel information is available at the reception desk. Transportation to other destinations and day trips can be arranged. |
| Other service | Offers pick up service. Simple breakfast with beverage is included in the room rate. |
| Comment | As a blogger, there was not enough power plug and lights in the room. But it was totally acceptable if you are traveling with normal electronic devices. For me, I have laptop, camera, iPhone, and video camera to charge. |
| Would I recommend staying here? | Yes |
Because I normally don't book accommodation ahead, I rarely use the pick up service. I admit; after 12 hours of train journey, warm welcome and pick up service with air-conditioned taxi felt pretty nice.
Jade Hotel had a great value for the money. It had better value than many of the hotel we stayed in China. The decoration of the room got my eyes as soon as I walked into the door: flower pedals on the bed, a flower on the table, and a simple interior. The location was really convenient. Also the room was clean and spacy, bathroom was clean and well equipped, and the bed was comfortable. Breakfast was simple; accompany with coffee or tea.
Travel information is provided from the front desk. Local tour can be arranged. Also you can purchase the train or bus tickets through the hotel.
Only one downside was there was not enough power plugs in the room. However I understand my standard is not same as a lot of travelers. As a blogger and photographer, I have a laptop, a camera, a phone, a video camera to charge and I'm traveling with another blogger, which makes double of the usage. We have to plug some of the lights out to work in the room. But it was doable.
I'm personally thankful for their help. When I had to go my visa run, I went back to Jade Hotel and they helped me planned the trip to Laos. Not only provided the information, but also they organized for me. They were really generous.
If you want a great place to stay in Hue with a good location and a great service, considering Jade Hotel.
#The accommodation is provided by Hostelworld.com as a partnership with Runaway Juno. But all the words in the review are my own.