Thinking back, when do I start to like traveling? Now I can see there were 3 moments.
In my child hood my parents always took my brother and I to travel in Korea. Korea is very small country but it offers a lot place to visit. My desire for exploring is based on that experience unconsciously. So my first moment was in my childhood what my parents made.
Through my high school years I was (and still am) an amateur astronomer. Because I lived in Seoul, I had to go out to the field where no lights exist. I have been to every little dark country side, like small mountains, big mountains like Mt. Jiri and near farms.
Sometimes that was really horrifying and painful. When I went to Mt. Jiri in winter for taking astronomical pictures, I realized how people can freeze to death. The time I visited a big temple in Mt.Youngmun, that place freaked me out at deep night. Temple is supposed to be safe and relaxing place but was not for me. However during that time I experienced all these, I realized even if all of these freaked me out, I was kind of enjoying it. Now I know this was my second moment.
The very decisive moment happed in my very first backpacking.
In the year 2004, when I decided to backpacking through New Zealand, someone I though very closely said "that's just a fancy way to say 3000$ vacation!" I was a college student and living in a serious budget so that really got me. Just before I live I still think 'maybe I just drop this and saving money… I can do a lot with all this money.'
.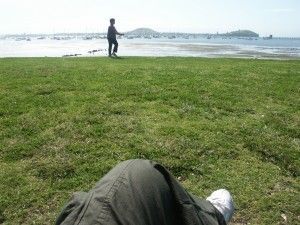 About 9 days after spending time in NZ, the moment, I exactly remember the time and place. Beautiful late spring sunshine with light breeze, walking around my friend Diana's place, looking down old traveling pants and white sneakers. I thought, this very step I take right now is the first and only step I'm taking here. Maybe I will never come here again (I did come back. Will get to it later.) and I'm here for experience whatever that is. So screw the 3000$ vacation crap. It is my adventure!
Yeah clearly that was my third and very decisive moment. That time I knew I'm going to be doing this for a very longtime. Turns out, I was right.
When was yours?