Happy New Year! 🙂
May your year is full of joy.
My good friend Sunmi and  mad a promise for this special day. To go see the first sunrise of 2011.
We live in same neighborhood where very close to a small mountain with a spring and a temple.  The name of the mountain is Mt.An (An San), elevation of 295.5 m.  We used to go there when we were in school. I went to all three schools in just 5 minutes away from my home and so did she. We just said 'Let's do it!'
Start the brand new year as hiking, how appropriate of me! 🙂
.
.
And there we were, 6 o'clock in the morning, with multiple layer of shirts and trousers, hat, gloves and every accessories we could get for make us warm. It was -14 degC by the way.
Walking to the top of the mountain, vaguely remember the path though. It was so dart, so cold, and all of the foot paths were filled with snow and ice. However the good thing is that we could not see those because it was too dark! We could be brave without any knowledge of condition of paths.
An San is quite famous for people because there is a big temple called Bong Won Sa. It was quite and peaceful. We can go to the top through the temple. Seriously there was no other people, I was expected few more companions because we didn't know there very well but noooo.
Well, so we just walk and walk.
Because An San is quite small, people developed many routes to hike. They are coming from various direction. For a while it was just Sunmi and myself but when we reached 450m to the top, suddenly we bumped into so many hikers for sunrise.
It takes about half an hour to hike up to the top. Not bad! Well, only less than 300 m high, but still very good. Yeah, this is very good place for getting a fresh nose.
.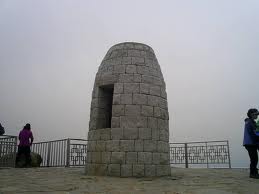 There was already many people on the top of the mountain. The place called Bong Su Dae because there is Bong su at the top which is one of the signal system in the old days. People spread the news by fire up the Bong su.
.
All of us are standing to East and wait. It was quite nice sky actually but little cloudy around the horizon. It was still pretty dark, but the view of Seoul, wow. just amazing. I didn't know but this spot is one of the most popular spot for night view of the city of Seoul. Hm, I was taking it for granted for years. 🙂 And there was moon and Jupiter to make this day prettier.
.
Sunrise was supposed to around 7:30 am but we had to wait a little longer because of the light cloud. More and more people came in…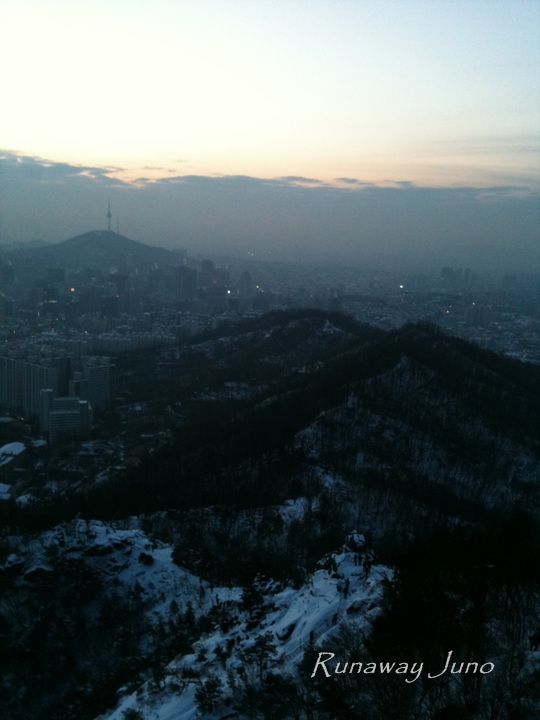 Finally the cloud turned into slightly red-ish and there she was! Beautiful sun. Wow.By the time my body was freezing up again, there she was, warms me up.
Yes it is just the same sun like yesterday but everything could be meaningful when you give them one. 🙂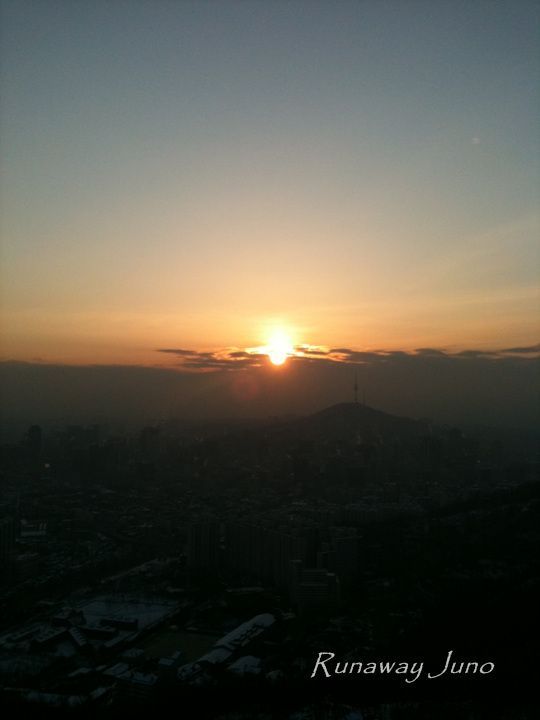 So there it is, the first sunrise of the year 2011. We were very tired to get up so early and hike but it was really rewarding feeling.
I feel pretty good. Good vibe, don't you think?
Cheers to all of us 🙂