What word pop up in your head when you hear "Hong Kong" ?.
Before I really knew about Hong Kong, Shopping, expensive food, and luxury accommodation were for the whole idea because every Korean tour operators said so.
Even the one I got for free handout from Hong Kong tourism website is an entire book of shopping and expensive eat out places.
This is why Hong Kong is not on my list even though it is not far from here.
However it changes after short trip to Taipei. You may remember my serendipity story in Taipei. Friends I've met, who are living in Hong Kong. We started to chat, and I found out there are many un-shopping and un-luxury Hong Kong. Of course! It hit me real hard. It is still people live there so, yes!. Never heard of someone enjoy hiking in Hong Kong before. Camber was the one who taught me that..
So okay, I put Hong Kong on my list. Also I have friends there now!  So, why not? All i need to do is just set the date. After few month the time has come.
Buddha's Birthday of May of 2010, I've decided to go Hong Kong.
1.Tsing Yi
Tsing Yi is in little island between New territories and Lantau island. I feel really lucky to found this place because Tsing Yi is the most Hong Kong feely place to me. Tsing Yi is not even on the little guide book I have! I hung out around here because this is where my couch was. My friend Meaghan is living here in one apartment.
Tsing Yi feels like a little bit of Suwon or little satellite town of Seoul. It is not too country side but modern enough, it is not too crowd but not too empty. You can still enjoy little bit of nature but you can hit the mall as soon as you need something.
Location is also perfect for first visitors.
From the airport, you can take a train to Tsing Yi, it is just one stops away, takes about 10 mins. Once you get off the MTR, you can get out to town through huge mall.
As soon as you get out of front gate of the MTR station, you can see this wide harbor in front of you. Ocean is just right in front of you. Across the harbor you can see Hong Kong island, bridges connect Tsing Yi to other places and boat village. This is my favorite part of Tsing Yi.
From station to home, you walk along with this ocean. How cool is that?
Also there are lots of great, local, and cheap restaurants. Being a not touristic place at all, I can see what they eat, how they eat and how great that is. First dinner I had was on the little restaurant just right beside of Meaghan's place, and I loved it. It is cheap, delicious, and it's on a huge bowl.
We had honey sausage with bean sauce on rice, deep fried port with bean sauce on rice and pepper sauced beef. Man it was huge! We didn't finish this. I miss them.. It was just around 30HK for a plate.
And I could not leave out Dim Sum we had. This place was inside of the Tsing Yi mall, on the first floor. According to Meaghan this place is always crowded with people. So we tried the day I left.
Long story short, It was the best Dim Sum I've ever had.
We ordered 5 basket of Dim Sum and it costs just 110 HK.  Taste? Check, Price? Double check!
.
And few other places I checked out, they looked pretty amazing.
It was such a sweet little town. So nice to see how Hong Kongers live.
2. Stanley
Stanley is old English village. Lots of western style fancy hotels are there as well. On the way when you see colorful buildings then you could think I'm almost there. Stanley is very different then any other street of Hong Kong.
First, lots of westerners. On the other hand Tsing Yi area, according to Meaghan, about 4 westerners live there among all these many apartments as far as she knows, give or take.
.
When I arrived to Stanley first I thought 'wow I am in the most tourist spot of Hong Kong' but turns out they are all locals. Family, walking their dogs, having lunch at a pizza place, play with kids. Like a scene of some soap opera. In my opinion Stanley is the least and the most Hong Kong-y place.
We got there by bus (double deck!!). After got off the bus, you get through a Stanley Market.
.
Personally, I got my best souvenirs here. Magnets!  Very good, cheap stores are there. Really relief that I didn't buy any souvenir at touristic shops except Disney Land. I got the best ones here! And remember. You can haggle the price here!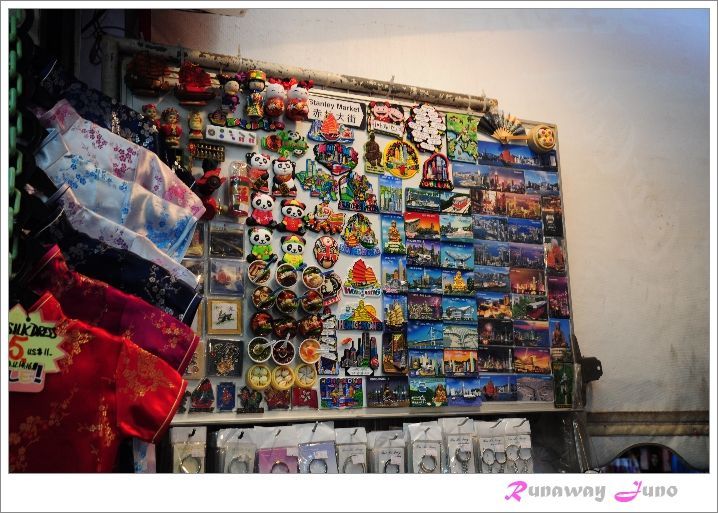 After market, ocean is greeting you. It was little windy day, so sound of wave and water was so good. On the side walk, many people walking their dogs, family on the picnic, eat out, and couples. It was such a nice area.
.
We sat down a little restaurant, out on the terrace, I had second best Fish and chips and Meaghan had the world largest ginger ale.
.
Buildings are extraordinary at here in Stanley. Light pink, yellow and green painted, beautiful window frames. If you've been to Singapore, it looks like little bit of harbor front of Singapore. Well, they have same background, so sound about right.
.
Tsing Yi and Stanley has really different vibe, and I am so glad I catch both sides of Hong Kong while I was there on such a short break. Hong Kong is certainly deserve to second visit and explore more. It felt really good because my little trip break wrong images I had about Hong Kong before. Well, you have to experience something to critic, right?
I just want to say, I assure you, Hong Kong is not  just for expensive shopping and fancy dinning. Of course you can do here. Hong Kong is great for shopping and fancy meals, true, but that is not all. So dearest Korean tour operators, please stop saying that. We all have different purpose to visit some places but you are losing someone like me to visit Hong Kong.
And last but not least, thanks for Meaghan, my local guide and my dear, dear friend who organizes all these places for me.
.
.
"How was your experience in Hong Kong? Or what do you expect to experience in  Hong Kong?"
.
.