This week's Runaway to Sister's city is about my dear friend Meaghan and her town Atlanta, Georgia, USA.
We go way back. Not like childhood friends but we spent quality time together over the ocean. From a hip hostel in Taipei to Hong Kong and Korea, Meaghan became my sister-like friend. She told me so much about her hometown and I felt like I've been there. But I'm sure there's so many things I don't know about. On that note, let's hear about Atlanta by Meaghan.
1. What is the best word to describe Atlanta?
One word for Atlanta is Hip. Based on the fact that Atlanta is at the center of the USA's hip hop community and is the gay central of the American South.
2. Let's jump right ahead to talk about food. What is famous local cuisine of Atlanta?
Atlanta's food lineage is predominantly Soul Food. Southern cuisine is famous all over the word. Things that are must have eats in ATL are biscuits and gravy, fried green tomatoes, chicken and waffles, fried okra, mac and cheese, fried donuts (Krispy Kreme makes southern style fried donuts), pulled bbq pork and collard greens. Pork is very important to Southern Cuisine as is deep frying ANYTHING! I have eaten deep fried cookie dough, deep fried butter, deep fried beer. (As some of the unusual things go.) Atlanta people would deep fry and shoe and eat it if it would make it taste good.
Street Food is not really that common in the South as we are a culture of sit down with your family and enjoy food. There are some places that do Fast Cuisine. The closest thing we have to the street food culture is with the County Fair where booths are set up and people buy food, ride rides and look at the local livestock. I love the fair for the food!
3. How much is for a cup of coffee?
Regular old coffee: 99 cents and unlimited refills at most places! (I miss this!)
We of course have starbucks and other coffee chains: A latte will cost you between 3-5 dollars depending on the place.
4. What is common drink? Both alcohol and non-alcoholic drink.
Southern Ice Tea and Coca-cola.
Coca-cola was invented in Atlanta (technically Columbus, GA) Coca Cola used to be served at pharmacies as a remedy for headaches and stuff. (This is back when it had cocaine in it.) You will only rarely find Pepsi products in the south as it's a cultural thing. Some southerners even refuse to drink something that is not a coke product. They think Pepsi tastes weird. I think it tastes the same, but whatever…
Southern Ice Tea is very sweet as it has a lot of sugar and lemon in it. Ice Tea has been essential to the southern culture since the Civil War as it is inexpensive to make and helps you deal with the heat. It is VERY sweet and some people cannot tolerate it. But they have non-sweet as well for people with diabetes.
5. Tell us about your childhood in Atlanta. Do you have a fun memory to share with us?
I grew up in a suburb of Atl called Griffin. Griffin is famous for two things, a football player named Jesse Tuggle and slutty girls. Apparently, girls from my town are easy… (I did not learn this until University when everyone expected me to be a slut just because I'm from Griffin.) Very close to Griffin and Atlanta was the largest syphilis outbreak in US history. It was a documentary called the "The Children of Rockdale" and talked about how about 50% of the teens in Rockdale County got syphilis from unprotected sex.
My favorite childhood memory of my childhood in Georgia was going to the Fernbank Museum with my mother and sister when I was 10. Fernbank has dinosaur skeletons and has a one of the best science museums in the south. I thought it was very cool. You can reach Fernbank by bus or by the MARTA system.
6. What is weather like?
HOT AND HUMID. Prepare for your hair to frizz and your shirts to be sweaty. We hardly ever see Snow.
7. What is the best way to wander around Atlanta?
Atlanta is not really a pedestrian friendly town. The buses run very irregularly and sometimes only once an hour. There is also the Marta system which is a train and although more efficient, it does not go everywhere you need to go. Be prepared to walk if you visit Atl or have a car as it really is a more car friendly city. Our traffic is infamous in the states! But if you have a car and more than one person you can use the HOV lane which is for multiple person cars and can cut down on your time on the road.
8. What is the most famous landmark? Do you have any favourite?
Atlanta is famous for the World of Coca Cola which is a museum and tasting room for Coca Cola. You can taste coke from all over the world and learn about the history of coke and it's integration into American culture. We had a new world of coke built just 3 years ago, it's much fancier than the old one and is located next door to The Georgia Aquarium which is the largest in the world!
The Georgia Aquarium is amazing. We have whale sharks from Taiwan there and they are SO beautiful! (I have never seen anything so beautiful as a whale shark.) I think it is the must see thing when you come to ATL. Other things to see are the Olympic Torch from the 96 games, Fernbank science museum, The MLK museum, Stone Mountain and the Center for Puppetry Arts.
9. Where is your personal/favourite hangout place?
Little Five Points! This is the center of the punk rock/ alternative community in Atl. They have the BEST burger you will ever eat and some of the funkiest stores you will ever see! I could spend a whole day in Little 5 shopping for vintage clothing, buying music, drinking coffee, going to the theatre and eating burgers. The burger place is "The Vortex". You'll recognize it from the giant Skull you walk through to enter the restaurant.
10. If you have one day for a short trip out side of Atlanta, where would you go?
Atlanta is hard to get around for day trips. A close place is Stone Mountain.( About 30 minutes from the city center, it is the southern Mount Rushmore.) But the best place in the state of Georgia is 5 hours from Atl by car. Savannah, Georgia kept all it's colonial architecture and is one of the artistic centers of the state. Famous chefs set up shop there, the girl scouts were founded here, it is the most haunted city in Georgia, has a beach, a great history and is easily walkable. I recommend 2 days in Savannah as the night time ghost tours are a MUST!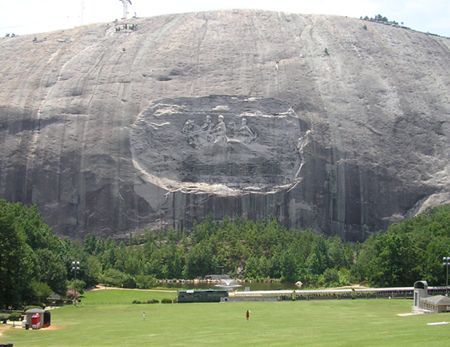 11. Is there any religious habit?
Atl is 60-70 Southern Baptist and 90% christian. We have a very small community of people who practice other religions. The largest one is Jewish.
12. Do you think there's any extraordinary custom in Atlanta?
We have good manners technically. You will be called Ma'am and Sir a lot, doors will be held open for you and always remember your pleases and thank yous!
13. How about language skills? Of course everyone would speak fluent English (duh!) but is there any other common language?
Ebonics! Ebonics is a subculture of English and African dialects. It's more commonly known as jive talk or talking black. You can actually study it in college.
14. If you are traveling to Atlanta, you are not going out without…. ( )?
FOOD! We are a eating society! I also think you should go to a baseball game as it is the American Experience and our team is very good.
15. Your secret tip.
There is a Gone with the Wind Museum in Jonesboro, GA about 30 minutes from Atl. If you love the movie you should go here to see the costumes and hear the history and stuff. You can also take plantation tours in Jonesboro as some of them were actually used in the movie. There is also the Margaret Mitchell house in Atl. It is a historical landmark and very cool to see where the book was written.
About This Week's Sister:
Meaghan is a children's theatre director from Atlanta, Georgia who works in Hong Kong. She spends her time making theatre, eating food, traveling and making new friends!
You can follow her adventures at: http://hkartguide.blogspot.com/ or follow her on twitter  @mmcgurgan.